Artful diplomacy with Syria and Iran
Kofi Annan and Catherine Ashton each relied on delicate diplomacy to bring some fragile hope to two big security issues – Iran's nuclear program and the civil war in Syria.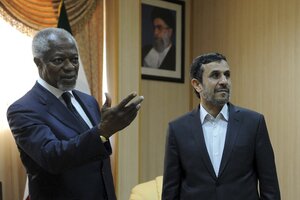 Hamid Foroutan/ISNA/AP Photo
As Churchill once said, to jaw-jaw is better than to war-war. That could well describe what two seasoned diplomats have pulled off in two of the world's big security issues – civil war in Syria and Israel's threat to attack Iran.
In the Syrian conflict, former UN Secretary General Kofi Annan convinced enough big powers as well as strongman Bashar al-Assad to accept a cease-fire plan last week. UN observers are now entering the country in a long-shot attempt to stop a conflict that has seen more than 9,000 killed over the past year.
An equally herculean task was achieved by Catherine Ashton, the European Union's foreign-policy chief. Under the dark cloud of an Israeli threat to bomb Iran, she was able to arrange 10 hours of talks last Saturday between Iran and six other nations – the US, Britain, France, Germany, Russia, and China. The negotiations in Istanbul, Turkey, were "constructive" and are set to resume next month in Baghdad, Iraq. Iran agreed to draft a proposal for changes to its nuclear program.
---