States should fold on Internet gambling
California and New Jersey, each seek more revenue, are leading the states toward Internet gambling, starting with online poker. But this all-too-easy form of gaming would come with at a high cost to society – and government.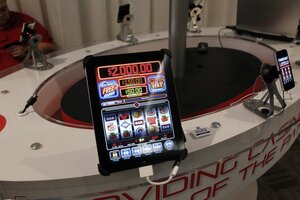 Beck Diefenbach/Reuters
Talk about an industry game changer.
A number of states are now poised to let their residents gamble online in games of chance. With a few thumb punches on a smart phone, someone could wager a bet in a poker match as easily as texting a message – only with a predictable loss of money.
California, which faces a whopping budget deficit of $16 billion, may be the first state besides Nevada to legalize in-state Internet gambling. Desperate for new revenue, the state's legislature is weighing an online-gaming bill that proponents claim would bring in hundreds of millions of dollars.
In New Jersey, too, lawmakers are close to sending Gov. Chris Christie a bill aimed at bringing in $50 million a year. And the state also hopes to revive Atlantic City by turning it into a national hub for online gaming if Congress approves online gambling nationwide.
This lure of adding revenue and jobs, combined with the industry's hefty donations to the campaign coffers of politicians, is pushing a number of states to act now. But it was also the Obama administration that winked its approval with a Justice Department ruling last December that in-state online bets – except for sports bets – would not violate the Wire Act of 1961.
That ruling may not be the final word if it reaches the courts. And to his credit, Mitt Romney has spoken out against online gambling – in Nevada before its caucuses.
The rush by some states to dubious riches has a few catches.
---