At Chicago summit, NATO must take stock of its big shoulders
The NATO summit in Chicago can overcome the alliance's current woes about Afghanistan and defense cuts by remembering how unique NATO is in history as a club of democracies with shared principles and interests.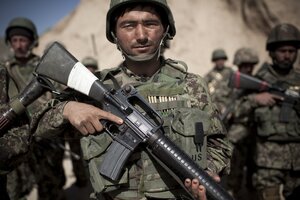 Anja Niedringhaus/AP Photo
Twenty years ago, the world's most successful military alliance was in crowing mode. NATO had just helped force the bust-up of the Soviet empire, bringing with it a sudden expansion of democracies and market-based economies.
This weekend, however, as the 28 member states of the North Atlantic Treaty Organization meet in Chicago, this bulwark of freedom now seems a bit lost as to its purpose and drained by the debt woes and political divisions of the European Union and the United States.
It needn't be.
Democracies still need to hang together or surely they will hang separately. Their best defense for freedom, as the 20th century taught us, is to keep expanding the club of democracies against whatever dark force comes along – whether it be communism, fascism, or, lately, Islamic terrorism (Taliban Afghanistan in 2001), bully tyrants bent on slaughter (Serbia's Milosevic in the 1990s and Libya's Qaddafi in 2011), or pirates off the Horn of Africa.
---