Ban on sex-selection abortions? Change attitudes toward girls instead.
A GOP bill up for a vote in the House would ban sex-selective abortions, most of which abort females. Such laws are far less effective than changing public thinking about the value of girls and women to families and society.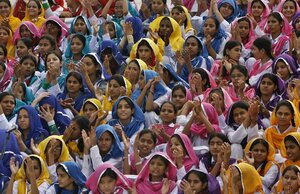 Akhtar Soomro/Reuter/File
The House GOP plans a vote today on a bill that would penalize health-care providers who perform abortions simply because a parent dislikes the sex of the expected child. Too often in such procedures, it is a female fetus that ends up being aborted.
The legislation, however, appears to be only the latest political move in the "war on women" theme of the 2012 election campaign. It is not a serious attempt to address the issue of sex-selective abortions.
While the practice is not yet widespread in the United States, it has been for decades in countries like China and India that now have highly skewed ratios of males to females, causing numerous social problems.
The bill, called the Prenatal Nondiscrimination Act, is not expected to pass. Rather it seems designed simply to put House Democrats on the record in voting against a measure that appears to be pro-girl but is mainly another point-scoring skirmish in the nation's heated abortion wars.
Four states – Arizona, Illinois, Oklahoma, and Pennsylvania – now ban abortions performed because of sex selection. But such laws are not the best way to persuade would-be parents against methods that can ensure the sex of a baby. In fact, parents may lie about their intention or the practice may simply be pushed underground.
---