The Ann Romney flap and women's roles
The flap over the Hilary Rosen comment about stay-at-home mom Ann Romney only exposes a deeper issue about self-sacrifice – for both men and women.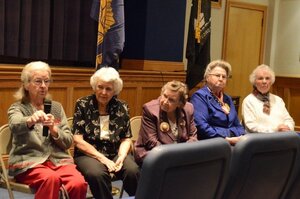 Credit: West Virginia Veterans' Legacy Project, Glenville State College/AP Photo
Presidential campaigns often put a mirror up to Americans and expose their unresolved social issues. Take, for example, the comment on CNN by Democratic activist Hilary Rosen about stay-at-home mom Ann Romney.
Her slip-of-the-tongue criticism of Ms. Romney's economic judgment has unleashed not just a political storm but pent-up public anxieties over women's roles – especially whether a full-time nurturer of children has less worth than a woman in the workplace.
The debate is a recurring one. Recall the storm over Hillary Rodham Clinton's campaign comment in 1992 that "I could have stayed home and baked cookies and had teas, but what I decided to do was fulfill my profession."
For almost every woman, that choice can still be difficult – despite decades of progress for women. And government may help or hinder their choices by, say, providing better access to day care or restricting birth-control choices.
Taken at a deeper level, this issue is not just about women or gender roles. Rather, everyone must find the right balance between sacrificing for others and pursuing goals that are not so selfless.
Oddly enough, self-abnegation is quite common and may even be increasing.
---