Lessons in risk for JPMorgan Chase chief
JPMorgan Chase bank chief Jamie Dimon explained his bank's $2 billion trading loss to Congress, revealing a lesson in not being complacent about risk management – a difficult task in a complex world of diffuse risks.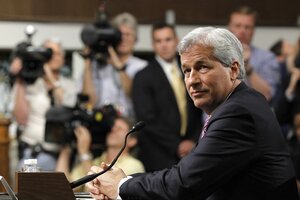 Haraz N. Ghanbari/AP Photo
Jamie Dimon, the head of America's largest bank, took a risk Wednesday in testifying before Congress. In May, his high reputation for managing risk at JPMorgan Chase was tarnished after he revealed the bank had lost more than $2 billion in risky trading.
Could he now restore faith in the ability of financial institutions to reduce the fear of big losses – for consumers, investors, and even taxpayers?
It helped that Mr. Dimon was open and honest. "We made a mistake. I'm absolutely responsible. The buck stops with me," he told the Senate Banking Committee. He admitted a lapse in his oversight of a bank department handling a complex portfolio that "morphed into something that, rather than protect the firm, created new and potentially larger risks."
And for him, the big lesson was that "no matter how good you are at managing risk, you can never be complacent."
But his testimony was revealing about the nature of risk today, not only in the world of high finance but for other kinds of risks, such as cyberthreats, environmental tragedies, or terrorism. Risk has become more globalized, diffuse, and diverse. Threats are not as obvious. The amount of information can be overwhelming.
---