What's missing in Romney, Obama speeches on the economy
The dueling speeches on the economy by Obama and Romney simply offered national solutions. Yet so many cities and states are on a strong comeback. How can the jobless join that success?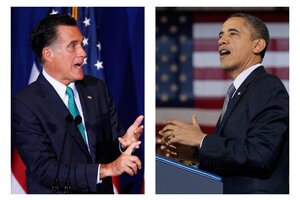 Carolyn Kaster/M. Spencer Green/AP Photo
In dueling speeches on Thursday, President Obama and Mitt Romney each offered ideas on how to fix the American economy. Their plans, while profoundly different, are alike in a critical way: They both assume the national economy needs national solutions.
That's partly true for things for which the federal government is primarily responsible, such as trade, money supply, and taxes. But if Washington's policies really mattered so much, then why are so many American cities and states booming regardless of who is president?
North Dakota's unemployment rate, for example, is near 3 percent. High-tech hubs like Austin, Texas; Boston; and San Jose, Calif., are humming. Many cities within 100 miles of each other have vastly different growth rates.
Each place has unique reasons for doing well, such as natural resources or creative universities. New York City thrives on finance, arts, tourism. Washington, D.C., prospers on tax and visitor dollars. Many places have largely defied the sluggishness in the national economy.
These growth centers could become America's pathway back to prosperity. They not only hold lessons for what other places can do, but they can serve as magnets for the unemployed.
---