What kind of PRI will rule Mexico?
Mexican voters have done what was once unthinkable, returning the notoriously corrupt PRI to the presidency after tossing it out in 2000. But Mexico is a different place today.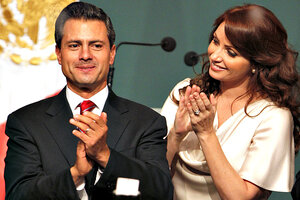 Tomas Bravo/Reuters
In any traditional tale, once a domineering ruler is overthrown, he's gone forever. The people never reconsider and invite him back.
But real life is often stranger than fiction. In Mexico, in what appears to be a free and fair election, voters have made the candidate of the Institutional Revolutionary Party the next president. This is the same PRI that ruled Mexico for most of the 20th century by stifling political dissent, rigging elections, and engaging in massive corruption and cronyism that held back much needed progress.
In 2000, a seminal moment in Mexican history, the PRI fell in elections that brought in 12 years of governing by the National Action Party (PAN). The shackles of one-party rule seemed to have been forever broken.
RELATED: 5 solutions for Mexico's drug violence and security challenges
But in recent years, the effects of a sluggish economy and violence in the streets resulting from a government crackdown on Mexico's drug cartels left many Mexicans longing for the more peaceful, and in some ways more prosperous, era of the PRI. On July 1, the PRI won back the presidency with less than 40 percent of the vote in a three-way race.
The party wisely had chosen a fresh face, Enrique Peña Nieto, to head its ticket. Mr. Peña Nieto is too young to have been part of the bad old days of PRI rule. And he's been saying all the right things, including a promise to continue the fight against the drug lords while reducing the drug-related street violence (more than 50,000 deaths in recent years) that has terrorized ordinary Mexicans.
---