Feeling poor? Wealthy? Here's a reason why.
More studies probe gaps between people, especially in income. This trend only reinforces a self-image based on stereotypes and relative comparisons. Isn't identity anchored first in the absolutes of life?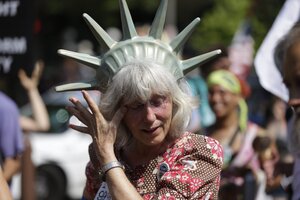 Matt Rourke/AP Photo
Almost every day, a new study points to gaps between people – in income, education, debt, values, even brain size. The latest report by the Pew Charitable Trusts, for example, finds a third of Americans have moved up in income class over four decades while 16 percent have dropped.
The most commonly cited "gap" is the rising disparity of income between the wealthy and poor. It helped spawn the "Occupy" movement last year with a focus on "the 99 percent." Today's politics revolves around campaign talk of "the wealth gap."
Researchers both left and right are writing books that explore such differences between people.
Conservative political scientist Charles Murray's work "Coming Apart: The State of White America, 1960-2010" tries to define a new kind of class system based on what the wealthy must do. Peter Edelman at Georgetown University has written "So Rich, So Poor: Why It's So Hard to End Poverty in America." And Harvard economist Edward Glaeser argues in a new paper that the gap between affluent suburbanites and the urban poor is driven in part by the government granting a tax deduction for home mortgage interest.
This trend toward focusing on what divides us comes with a cost. It polarizes politics, such as the current clash over whether to cut spending or raise taxes. And gap studies are also constantly changing as researchers find new gaps or redefine old ones, causing confusion over how to bridge them.
---