The 'light' touch to curb urban killing
Recent murders in cities like Boston that already have used new crime-fighting methods call for more individuals to put a caring light on gang crime in their communities.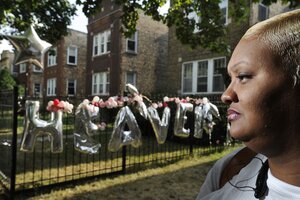 Paul Beaty /The Christian Science Monitor
When three young women were fatally shot in Boston Aug. 12 while sitting in a car, the tragedy not only ricocheted to their families, friends, and neighbors. It also hit Boston's pride as a leading American city that had adopted new ways to tackle urban violence.
The city's success during the 1990s in reducing gang-related killings has lost much of its momentum due to apathy and in-fighting among Boston leaders. It is a common worry in many US cities where police, prosecutors, social workers, and clergy are trying to focus on the young men most responsible for murders.
That worry was reflected in the funeral service Monday for one of the Boston victims, Sharrice Perkins. A pastor, Bishop John M. Borders III, suggested that the institutions of justice and community services have had difficulty sustaining their efforts against top gang members and repeat offenders.
"Violent criminals are not afraid of you or me. Violent criminals are not afraid of the police. They are not afraid of the clergy. They are not afraid of politicians. They are not even afraid of jail," he said.
Then he added: "They are only afraid of one thing: the light." He called on the 1,500 mourners and others in Boston's black community to expose those who sell drugs, run in gangs, and commit violent acts.
"Expose the darkness and say the names ... snitching is an act of betrayal, but the truth is a moral obligation."
His call on individuals to shed their fears in order to save their communities gets to the heart of what is still missing in many top-down approaches to urban violence. It is the moral commitment by enough people in enough neighborhoods to make a lasting difference – even if local institutions falter in their efforts.
---