Obama-Romney debate can't avoid 'nation-building'
Recent presidents campaigned against nation-building only to take it up as necessary for what defines America's ideals and strategic interests. Voters need to hear what Romney and Obama would do differently.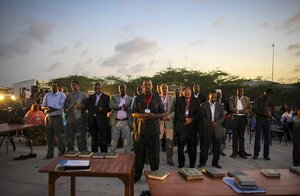 Stuart Price/Reuters
In each election, America redefines itself. But over the decades, one constant remains: Presidential candidates promise to focus on building up the nation, and then once in the Oval Office, they also do "nation-building" abroad.
In 1992, Bill Clinton put the economy first only to be forced to intervene in Somalia, Bosnia, Haiti, and Kosovo. In 2000, George W. Bush ran against nation-building and promised a "more humble" foreign policy. His secretary of State, Condoleezza Rice, famously asked why US troops were walking Bosnian kids to school. After 9/11, however, Mr. Bush changed his mind, launching into nation-building in Afghanistan and Iraq.
In 2009, Barack Obama declared – in reaction to Bush's actions – "The nation that I'm most interested in building is our own."
---