How Obama, Romney foreign policies are alike
While they differ on issues like Iran and China, Obama and Romney are alike in not having a foreign policy that would inspire Americans to build a strong economy.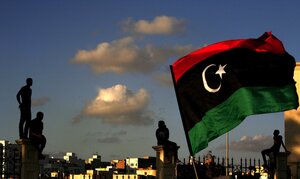 AP
The 2012 presidential campaign turned toward foreign policy this week, marked by speeches in which President Obama and Mitt Romney pointed out their differences, such as on Iran and China.
But their views are really quite similar in one significant way: Neither candidate put forth a national-security agenda that would inspire Americans to support a strong economy to fulfill that agenda. In fact, their foreign goals seem subordinate to simply fixing the US economy.
At the centerpiece of his approach, Mr. Romney proposes "prosperity pacts" to boost markets in other countries and thus create jobs at home. And Mr. Obama, who once said that "the nation that I'm most interested in building is our own," takes a similar theme. He wants the United States to better partner with countries in such areas as trade and technology to "spark economic growth for all of our people" in hopes of stabilizing democratic change abroad.
The two candidates are certainly in tune with today's voters. In a survey of public opinion released this month by The Chicago Council on Global Affairs, the most popular foreign-policy goal is protecting the jobs of Americans workers. Support for that goal – 83 percent – is the highest in a decade. Second to it, at 77 percent, is reducing US dependence on foreign oil.
Other trends point to an inward-looking America, especially for the future. Voters under 30 see far fewer threats to the US (such as terrorism) and are far less supportive of an activist approach to foreign affairs than older Americans do. "They are less likely to consider strong US leadership," the poll found. One reason is that fewer than 60 percent of these Millennials say the US is the greatest country.
---