Women can't be airbrushed out of Arab Spring
Like IKEA's deletion of photos of women from its catalog for Saudi Arabia, Muslim countries now creating democracies can't leave out women's rights while creating civic rights.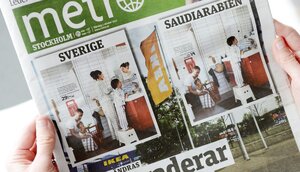 Henrik Montgomery/Scanpix Sweden/AP Photo
IKEA just gave new meaning to the phrase "some assembly required." The chain store has airbrushed images of women from its new furniture catalog for Saudi Arabia so as not to offend hard-line Islamists. Women in that Muslim country will now need to imagine themselves using IKEA furniture.
The Swedish store's action – which it has since regretted for violating its values against gender discrimination – nonetheless is a welcome reminder that women in many Arab countries still find themselves fighting for basic rights. And in Muslim countries newly liberated from dictators, the battle is taking place in assemblies currently writing constitutions for the young democracies.
In Egypt, Libya, and Tunisia, hard-line Islamic leaders seek wording in the draft constitutions that they say would reflect sharia (Islamic) law on divorce, marriage, and many other social areas. Their moves have triggered protests and outrage among women's groups who want to retain the rights of equality that they had under the old secular rule or to add new ones.
In unliberated Saudi Arabia, too, this tug of war is playing out as the ruling monarchy takes small steps on women's issues, such as granting women the right to vote or to work in retail stores with male shoppers. This past summer, Saudi Arabia sent its first female athletes to the Olympics. These actions are driven in part by pressure to reduce high unemployment among women and to quell pro-democracy dissent.
---