The Obama, Romney dance on debt in the debates
Lost in the dueling economic figures of the presidential debate was a shared moral concern by Mitt Romney and President Obama about the giant debt being left behind by baby boomers. Young Americans – and future generations – need more of that political unity.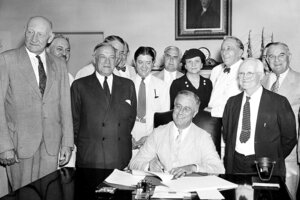 AP Photo
Viewers of Wednesday night's presidential debate could be excused for feeling lost in a thicket of numbers. Yet both Mitt Romney and President Obama had clarity on one economic topic: a duty to bring down the $16 trillion national debt.
Mr. Romney framed it as a moral issue. The baby-boomer generation, he said, keeps "spending massively more than we take in, knowing those burdens are going to be passed on to the next generation." With Mr. Obama in agreement, the two then split over how to cut the debt – by entitlement cuts or higher taxes? – while trying to end conflict between generations over financial obligations.
They shouldn't lose that moment of shared concern as they barrel toward the election finish line. A joint moral purpose on behalf of future Americans can help overcome political differences.
Baby boomers are leaving behind far more than a huge bill. For the first time in decades, those in the next generation may be worse off than their parents in many ways, from average income to student debt to climate change.
Yet any society relies on a compact between generations, even with those yet unborn. Each generation has its own shared idea of what is good and then puts those ideas in place for those to come as well as for itself. Families do this naturally, but modern societies have also come to transcend their temporal self-interests in order to pass on a better way of life to their descendents.
Democracies do this much better than dictatorships as they are based on a wider sharing of values. But democracy also entails the messy politics of making choices about what is valued and, more important, which generation should pay for the big projects.
---