Syria's YouTube 'war' could win the war
Another failed ceasefire in Syria once again demands new ways to end the violence. Perhaps the truth-telling tactics of the opposition in YouTube videos can help hollow out the lies of the Assad regime so that his remaining support collapses.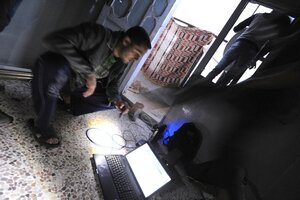 Scott Peterson/The Christian Science Monitor/Getty Images
Another failed United Nations-brokered truce in Syria over the weekend should now force the outside world to again ask: What can stop the violence?
More than 30,000 people have been killed in a conflict sparked 19 months ago when the military arrested 15 teenagers writing graffiti – "The people want the downfall of the regime" – that revealed an unspoken truth. Since then, peaceful protests have largely given way to a civil war that's also spilling over Syria's borders. Russia and the United States can't agree on what to do, so little is done from the outside.
That leaves either more violence to resolve the conflict or something else. What might that something else be?
Perhaps it is the parallel war being waged by the opposition on YouTube to convince the remaining Syrians who support Bashar al-Assad that the regime now survives only on a thin tissue of lies.
One of the more popular chants during demonstrations has been "Syrian media is a liar!" To challenge the state's censorship and its massive propaganda machine, the opposition has smartly used the Internet, relying on satellite connections to upload videos on YouTube. Many Syrians rely heavily on their satellite dishes to watch these daily depictions of what the regime actually does.
The effect is powerful. A string of myths has been knocked down, starting with Mr. Assad's superficial attempt at political reform last year. Also gone is the regime's pretense of widespread support in the Arab and Muslim world.
The videos have shattered Assad's claim that he represents all of Syria's diverse people by showing how much he now relies on support from his minority Alawite community. The current videos are countering the regime's claim that the pro-democracy opposition is run by Islamic terrorists.
---