Election winners and losers
Americans voted in large numbers. But voters need to be better served at the polls. Meanwhile, Republicans must pause to reflect.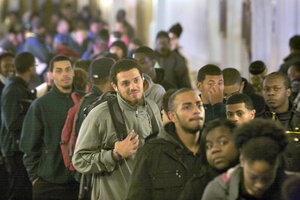 Michelle McLoughlin/Reuters
The meaning of the 2012 US elections will be the subject of debate and discussion for some time to come. But even in these first days some conclusions and questions are clear.
One conclusion: There is much to be grateful for. The race for president produced a clear winner, and there are no lingering legal challenges to the outcome. Whether President Obama won a "mandate" is arguable, but by winning both the popular vote and the electoral college by indisputable margins his victory was decisive. The president and new Congress now are able to go to work right away addressing the country's challenges, as President Obama did Friday with his remarks on the coming "fiscal cliff."
The election also produced a heavy turnout of voters eager to participate in their democracy. New voters, young voters, and African-Americans and Hispanics participated in large numbers, reflecting the diverse American society.
RELATED: Three views on best way to curb US debt
Despite concerns that huge amounts of money spent by political action committees would skew the results, many candidates backed by large PAC-financed advertising campaigns did not win their races. Money was less influential than expected. Voters thought for themselves.
Another conclusion: The election also shows that the political process in the United States continues to evolve. Polling guru Nate Silver suggests that shifting demographics and voting patterns mean the electoral college system now favors the Democratic presidential candidate. He estimates that GOP presidential candidate Mitt Romney would have needed to win the popular vote by about 3 percent in order to win enough states to win the electoral college, and thus the election.
---