US pivot to Mexico?
A new leader of Mexico, Enrique Pena Nieto, takes office with enough hope of reform that it argues for the US to draw closer to its neighbor.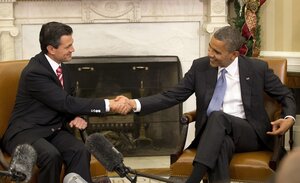 AP
The date remains uncertain. But at some point Mexico's reputation in the eyes of Americans will start to shift from being a burden – drugs, migrants, violence, corruption – to becoming a partner as close as Canada, Japan, or Britain.
Perhaps that date is Dec. 1.
That's when a new president, Enrique Peña Nieto, takes office with far more political pull than recent presidents to push through the kind of reforms that have been moving Mexico closer to the United States over the past decade. He's also taking over an economy that is fast rivaling China as a magnet for global investors.
President Obama welcomed Mr. Peña Nieto to the Oval Office on Tuesday, perhaps with an eye to raising Mexico higher in his second-term agenda. Indeed, in addition to the "pivot to Asia" that Mr. Obama recently proposed for US foreign policy, he might also pivot the US toward its southern neighbor, which is now its third largest source of oil and second largest export destination.
Few in the US have grasped the changes in Mexico. It is more open to the world, with 44 free-trade pacts and greater manufacturing exports than the rest of Latin America combined. This has forced it to listen more to its foreign critics in honoring the rule of law, labor reform, and human rights. Its politics are more competitive, its civil society and media are stronger, and its governing bodies, such as the central bank and Supreme Court, are more independent.
---