Look to Lincoln to solve 'fiscal cliff'
As the Spielberg movie 'Lincoln' and many books about Abraham Lincoln reveal, solving difficult standoffs in Washington takes more than savvy politics and horse-trading. Lincoln had to first turn to deeper ideals that then helped him win allies.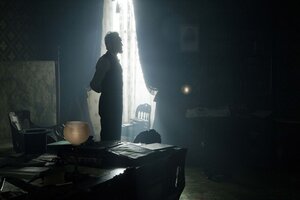 David James/DreamWorks/Twentieth Century Fox/AP
Today marks the 147th anniversary of the passage of the US Constitution's 13th Amendment and its ban on slavery. Might the struggle over its passage in Congress – the focus of the Steven Spielberg movie "Lincoln" – provide insight for the current political fight over the "fiscal cliff"?
The movie, like many books about Lincoln, reveals how coalitions were formed, deals cut, and favors granted to garner votes for the amendment. This is the stuff of hard-knuckle politics. In a nation divided over difficult topics, tactics and self-interest often receive more attention than the nation's underlying principles do.
It's easy during the messy process of democracy – or a civil war – to lose sight of what's really at stake. This week, for example, Congress seems intent on debating such side issues as the future of the filibuster and the potential blame for no budget compromise. This takes the debate even further from the immediate issues of tax rates and entitlement cuts. Yet the process itself would be improved if negotiators together examined instead the deeper ideals at stake.
For Lincoln, saving the Union and ending slavery were essential and mixed together. But these profound issues forced him to examine his beliefs, sort out the highest priorities, and then articulate them. The clarity of his commitment to both the American ideal of civic equality and the biblical basis for it led him to cut through the thicket of politics, sign the Emancipation Proclamation, and later gain passage of the 13th Amendment.
Many scholars of American presidents try to define each leader's core beliefs, seeing them as essential to understanding historic decisions or creating consensus. A presidential candidate today is even obliged to reveal his or her religious background – as Mitt Romney and Barack Obama quickly learned – even though the Constitution bans a religious test on candidates.
---