Obama inaugural address: a call to act on unfulfilled ideals
President Obama's inaugural address is a call for action to secure America's rights and freedoms. His plea relies on a people who must put love for each other into practice.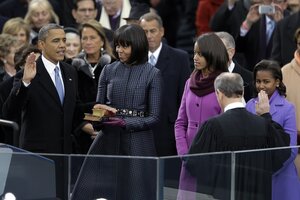 AP Photo
In starting his second term, President Obama took the oath of office not on one Bible but two – those of Abraham Lincoln and Dr. Martin Luther King Jr. Then, in his inaugural address, he spoke of God five times and freedom seven times. He did so mainly to underscore this point: Americans "must act on behalf of those who long" for the freedoms that are a gift from God.
To help prove his point, Mr. Obama kicked off the three-day Inauguration weekend by participating in the National Day of Service – along with some 13,000 other people nationwide – in an event that yearly honors the King holiday. With his family, he stained a bookshelf at a local school.
Action is now Mr. Obama's second-term theme, not only action by government but "collective action." Every citizen has the power to set the country's course, he stated. The gap between the nation's ideals and its reality is too great for people not to act.
The president's call to action reveals the depth of his personal empathy for those who have not yet fully realized "Life, Liberty, and the Pursuit of Happiness." And as studies show, leaders who display empathy are more effective as leaders. Other research shows that people who witness good deeds – even if only through the news media – are more likely to perform good deeds themselves.
Each new leader builds on this kind of "moral elevation." Reverend King had a vision of Americans as a "beloved community." One of his last sermons read, "The question that the lord of the universe is asking now, and will ask forever, is what did you do for others."
---