Obama's hidden nonplan to arm rebels in Syria
News that Obama vetoed a plan by his senior security staff to arm Syrian rebels reveals the extent of his humanitarian impulse. But he must also protect the new UN doctrine of a 'responsibility to protect' by being more open about his Syrian strategy.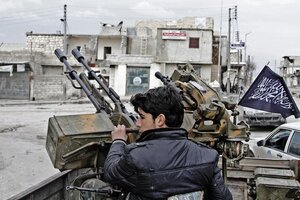 AP
Last week, the world was given an invaluable peek into an internal debate of the Obama administration over whether to intervene in Syria.
In response to a question during a Senate hearing, Defense Secretary Leon Panetta said the president had vetoed a secret plan last summer – supported by his top national security team – to arm selective opposition groups now fighting the Syrian regime of Bashar al-Assad.
Sen. John McCain then asked a difficult but rhetorical question of Mr. Panetta and the chairman of the Joint Chiefs of Staff, Gen. Martin E. Dempsey:
"How many more have to die [in Syria] before you recommend military action?"
Nearly two years after the pro-democracy uprising began, more than 60,000 people have been killed in Syria, according to United Nations estimates. And the pace of killing has picked up as Mr. Assad sees less risk of any foreign intervention. Some 5,000 Syrians now flee daily into neighboring states, creating a refugee population of nearly 800,000. Another 2.5 million are internally displaced.
---