To deter extremists in Syria, Obama must heed lessons of Kosovo intervention
As President Obama watches Islamic extremists gain power in the chaos of the Syrian uprising against the Bashar al-Assad regime, he should consider the precedent of the US intervention in Kosovo – where extremists have been kept at bay and democracy is growing.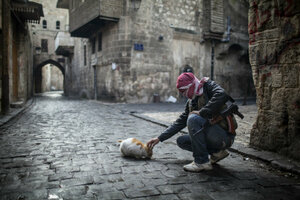 Andoni Lubaki/AP
See if you can identify this situation.
Thousands of civilians have died within the last year. Civil strife has turned into ethnic conflict and now civil war. And the international community is increasingly worried. The United States is boosting its military presence in the region, while at the same time providing the rebels with training and logistical support. "We want to develop a good relationship with them," says the US State Department spokesman referring to the anti-government forces. Meanwhile, Russia vehemently warns the West not to intervene.
This may sound like a description of the 2011-2012 Syrian uprising against the regime of Bashar al-Assad. Actually, this was the scene of events leading up to the US military intervention in Kosovo in March of 1999. But it could just as easily depict the conflict in Syria today.
The Obama administration recently sent troops and is deploying Patriot defense to Turkey, which lies on Syria's northern border. And it has provided logistical support and official recognition to the Syrian rebels. Meanwhile, the death toll from the conflict is mounting. The United Nations just raised its estimate: More than 60,000 Syrians have been killed so far, as many as five times the number of deaths in Kosovo the year of the US military intervention. Just as with Kosovo, Russia is warning against any form of western intervention.
---