Plucking a big bone in free-trade talks: food
President Obama's ambitious goal for free-trade pacts with Europe and Asia depends on solving emotional disputes over food and agriculture. Leaders need to deal with people's deep concerns about what they eat, farming culture, and culinary identity.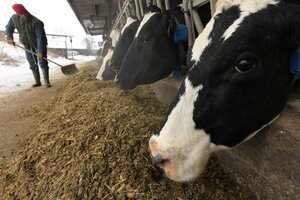 Reuters
Among all the goals for President Obama's second term, two of the most ambitious are giant deals on free trade – one with Asia and the other with the European Union. If he is to succeed in either one, he will need to solve the most prickly issue in such negotiations: food.
On Tuesday, Mr. Obama announced his support for achieving a trade pact with the 27-member EU by 2014. He also wants to wrap up talks for a proposed pact called the Trans-Pacific Partnership, which now includes 11 nations. Such agreements are aimed at reviving economic growth.
In both negotiations, thorny disputes over agriculture could either weaken the result or derail a deal. That's because issues over food arouse strong emotions about survival, safety, local community, eco-sustainability, political power, and even cultural and spiritual identity. In many trade pacts, food is often given "special" status, which usually means an allowance for protectionism.
Even within countries or regional bodies like the EU, food remains divisive. The recent scandal in Europe over horse meat in beef products has reinforced a public distrust of government controls over food. In the United States, the "local food" movement has run up against safety regulations, spawning a "food sovereignty" campaign.
---