'Sequester' standoff need not be win-lose
Americans, not just politicians, are torn by so many choices in the budget standoff, now called the 'sequester.' One way for President Obama and Congress to avoid the consequences of sequestration is to adopt the concept of 'settling,' as put forth by one political theorist.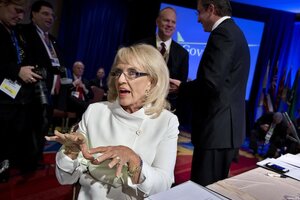 AP
Americans identify with people who are strivers. It is a trait anchored in "the pursuit of happiness." But personal striving can often lead to public strife. Take the "sequester" and its March 1 deadline for Congress to avoid big budget cuts.
The sequestration battle is a prime example of a government failure to sort out the conflicting demands on the public purse from so many strivers. A new Pew survey, for instance, finds Americans can't agree on what to cut in federal spending – health, military, education, etc. How then can President Obama and the 535 voting members of Congress ever compromise?
But the excessive demands of strivers don't usually have the same effect on local government. How is it that most cities, towns, and counties are able to settle their differences and balance their budgets? Why this difference between the federal and the local levels?
One answer lies in that word – settle.
In a recent book titled "On Settling," political theorist Robert E. Goodin explores when and how we should settle in order to free ourselves to better discern and focus on our strivings. He suggests we "prune our decision tree" as a way to achieve reconciliation and to strive better.
At the local level, voters and their representatives are less boggled by complexity and more familiar with issues. Local officials aren't as paralyzed by choices, as many consumers are in a food store when they face a hundred brands of breakfast cereal.
Mr. Goodin, an American and philosophy professor at the University of Essex in England, seeks to elevate settling to a virtue, in part to reduce the fear of making a wrong choice in a complex world.
---