Euro crisis: Why a Cyprus bailout must be seen as 'fair'
As Europe tackles its latest euro crisis, a Cyprus bailout deal must follow the path of being perceived as 'fair.' A tax on small-time savers isn't seen that way.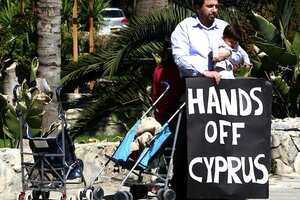 AP Photo
For three years, Europe has tried to fix the eurozone debt crisis country by country, from Greece to Ireland to Italy to Spain. Each time leaders try to assign the blame, the burdens, and the benefits according to what they perceive to be "fair."
Now it is Cyprus that needs fixing – and quickly. The island nation's banks are closed while its politicians deal with tough terms for a bailout. World markets are jittery.
This time, however, the task of fixing this latest crisis in Europe has run into a massive perception of unfairness. Just how well European and international leaders balance the competing notions of what's fair could determine how fast the Continent's economy recovers.
The main issue for most Cypriots is that the proposed rescue plan calls for a tax on bank depositors as a way to restore the financial system. For small-scale savers, the tax would violate a government guarantee that no deposits up to €100,000 would ever be lost, similar to the FDIC insurance in the United States. A promise would be broken as this one-time tax would diminish the amount of each person's savings.
---