A model to end Washington gridlock: Mexico
Since its political leaders signed a pact for national reform in December, Mexico has been on a roll. The country's suffering from self-inflicted gridlock was reason enough for consensus and change.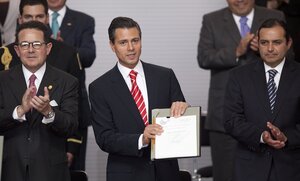 AP
ññThe moment is hard to predict. When does a nation or a person, after experiencing enough self-inflicted suffering, finally seek reform?
In Washington, the years of political gridlock in Congress have yet to lead to such a moment of reforming remorse. But perhaps the United States should look to a possible model – just to its south.
Since December, when Mexico's three main political parties pledged to seek 94 reforms, that country has been on a turnaround from past stalemates and policy misdirections. It is as if Mexico had hit bottom, only to decide that its Congress must set aside some differences for the sake of the future.
Gridlock was finally seen as simply too costly. The nation's drug-fueled gang violence had gone on too long. And new leaders in each party had opened a door for change.
The so-called Pact for Mexico signed by top political leaders has enabled President Enrique Peña Nieto to overcome legislative paralysis and either pass or present serious reforms. To the surprise of many, his own Partido Revolucionario Institucional (PRI), which once represented the entrenched status quo, has taken on big interests that have long held Mexico back – in education, energy, broadcasting, and telecommunications.
Perhaps the most historic shift came when PRI approved a proposal to open Pemex, the state oil monopoly, to private investment. This potential reform still faces hurdles but is now seen as essential to reverse a decline in petroleum production and to wean the government off an overreliance on oil revenues.
---