How a Wal-Mart struggle in India shows world progress
Stung by a case of corruption in Mexico, Wal-Mart pushes its Indian associates to be squeaky clean. Such action shows the global effects of a US anti-corruption law.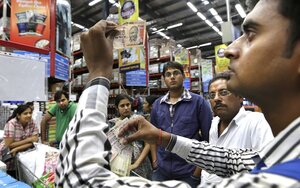 AP Photo
American firms rarely view their role in doing business abroad as "spreading the gospel of anti-corruption." Yet that phrase is now used by the Justice Department to describe the salutary effects around the world of US companies that comply with the Foreign Corrupt Practices Act (FCPA).
The 1977 law has been vigorously enforced by the United States only since 2009, resulting in more than $2 billion in fines and dozens of individuals convicted for corruption. The tough enforcement has even pushed Wal-Mart, the world's largest retailer, to admit last year that its representatives in Mexico had bribed officials to speed up building permits for new stores.
Now Wal-Mart is trying to clean up its act to the point that it is forcing changes in the corrupt practices of India, where it hopes to become the largest retailer within a few years.
The company is requiring the Indian landlords of its stores to "attest that they haven't greased any government palms," according to The Wall Street Journal. The requirement goes far beyond direct transactions with Wal-Mart. The Indian companies must be squeaky clean in all their dealings – much to their reported protest.
---