Of one mind about chemical weapons and protecting the innocent
Probable evidence of chemical-gas use in Syria may soon force world leaders to intervene. Their decision should be based on a principle enshrined in a global ban of such weapons – a respect for the innocence of civilians in not being harmed by this indiscriminate tool of war.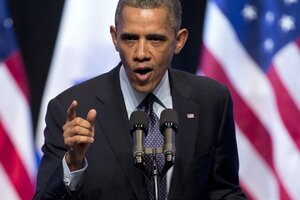 AP
From afar, the probable use of chemical weapons by the Syrian regime could seem like just more Middle East mayhem. Yet it is not. Which is why President Obama and other world leaders are contemplating stiff action in Syria based on evidence of at least one sarin-gas attack.
More than other tools of war, chemical weapons are indiscriminate in what they strike. Poisonous gases can float anywhere. They can wipe out entire populations of civilians, either by design or a change of wind. Even the weapon's users might be hit.
For these reasons, nations have gradually agreed since 1899, or at the dawn of modern warfare, to tougher sanctions against these tools of destruction. In 1997, the Chemical Weapons Convention came into force with the support of 188 states.
This steady toughening of rules is not simply because of the immense fear such weapons evoke by their effects. It is because enough people have made a conscious choice to protect the innocent – or the very idea of innocence as the preferred condition of every human being.
As humanitarian scholar Hugo Slim wrote in a 2008 book about civilian protection, "The main idea behind limited war and its civilian ethic is, of course, that of limited killing. This is because every human being's life is precious to themselves, to those who love them and, if one is religious, to God as well."
As the United States and others now debate their next steps in Syria, this century-long progress toward a near-universal acceptance of protecting the innocent from an indiscriminate weapon should be a guiding principle.
Mr. Obama and others, of course, have strategic and tactical concerns. Would outside intervention cause even more use of chemical weapons? Would a foreign invasion lead to high civilian casualties? Can an over-indebted and war-weary Europe or US afford to act?
---