Revenge, or fear of it, must not lead Syria to chemical warfare
President Obama and other world leaders must speak directly to both Assad and rebel leader about avoiding revenge killings. That is necessary to prevent escalation of the war with chemical weapons.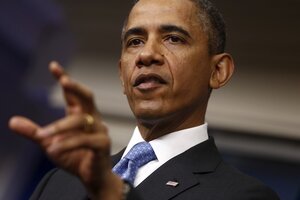 AP Photo
The world has good reason not to ignore the recent use of chemical weapons in Syria. If such a destructive and indiscriminate method of killing were used for massive revenge – or even out of fear of revenge – it would greatly reverse humanity's progress toward keeping this crude instinct in check.
A killing on the scale of thousands of civilians done in retribution would not only be inhumane; it would also represent a wholesale embrace of a primal state of human behavior. For that reason, President Obama and other world leaders can do something now in Syria short of armed intervention.
They can use moral persuasion and remind the Assad regime – as well as rebels who kill out of spite – that a lust for revenge is a futile emotion, one that modern societies have learned to supplant with higher concepts of justice. Such an appeal by the global community would lay the moral groundwork for stronger action if it fails.
Over the two years of this civil war, massacres of civilians have become more prevalent, committed mainly by armed forces allied with President Bashar al-Assad. Often the motive is revenge, meted out on entire neighborhoods or villages for a previous attack by rebels. This has set up a cycle of tit-for-tat violence or a rising fear of return killing. This cannot now drive a dangerous escalation of the war by the use of a weapon of mass destruction.
---