In Boston and Cleveland tragedies, a case for more neighborliness
The twin tragedies of the Boston bombings and Cleveland kidnappings reveal a need for those close to would-be perpetrators to both care more and be more alert. Balancing the two isn't always easy.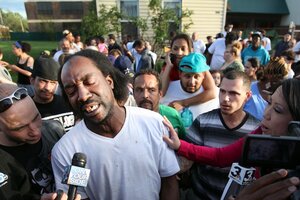 Scott Shaw/Cleveland Plain Dealer/AP Photo
Two big news events within a month – the Boston Marathon bombings and the Cleveland kidnappings – have led to much hand-wringing over whether anyone who knew the perpetrators might have been able to stop these horrific acts.
Were the neighbors or associates of the suspects as caring or alert as they might have been to spot troubling behavior – and to do something about it?
In hindsight, it would be easy to say "no." In both cases, there were possible trigger points in which someone might have played the role of "brother's keeper."
The Muslim mosque in Cambridge, Mass., could have been more diligent in how it dealt with bombing suspect Tamerlan Tsarnaev as he became more radical and belligerent, condemning the United States. The mosque did throw him out. But it didn't contact police. And its members didn't engage him in such a way as to help him with his conflicted feelings of identity and his family difficulties.
And even though a few people in the Cleveland neighborhood told police of odd behavior of the three Castro brothers held in connection with kidnapping the three women, many neighbors wonder if they should have known more – or done more. Should they have tried to befriend the brothers, for example, or kept a closer eye on activities in the house?
Such speculation strikes at the heart of how successfully an individual in any group – a neighborhood, a religious setting, or an office – forms a trusting relationship with others out of genuine goodwill yet also remains watchful for attitudes or behavior outside a particular norm. The line between trust and spying is easy to cross. Just ask any parent with a teenager.
After the 9/11 attacks, the Federal Bureau of Investigation and other government agencies have encouraged Muslim communities to be more alert to members who "self-radicalize." New York City has the most sophisticated program of its kind, working with local Muslims to spot home-grown terrorists.
---