What will drive Israelis, Palestinians to talks
With Secretary John Kerry confident of talks starting soon, the new imperatives in the US and Middle East can help drive a peace deal between Israel and Palestinian leaders.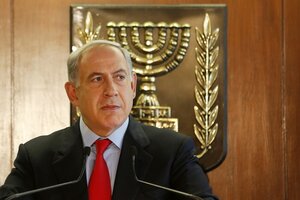 AP Photo
For more than 40 years, every American president has had to be a schoolyard teacher watching over Israelis and Palestinians, jumping in to persuade them either to stop fighting or to make up – until the next fight. This mediation role by the United States has sufficed to maintain an on again, off again peace. With negotiations expected to start again soon after three years of stalemate, will this time be any different?
Top Israelis seem to think so. Ever since Secretary of State John Kerry announced a breakthrough Friday toward starting the talks, Israelis have debated how to approve any deal for a two-state solution – whether by national referendum or a cabinet vote. A few Palestinian leaders, meanwhile, are still insisting on some prenegotiation agreements. This implies that the outlines of a deal are pretty well known, with only a strong dash of political will needed.
To prevent the talks from being derailed before they start in Washington, a State Department spokesmen offers this necessary detail: "There are only a limited number of parties who know the true details of what was agreed."
---