What Obama must do for Syria peace talks
As he prepares for peace talks on Syria planned for November, President Obama can better help unite the anti-Assad, pro-freedom opposition with a clear vision of what the US supports.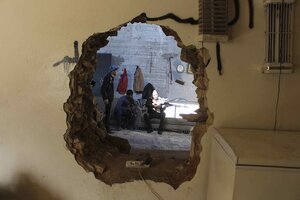 Reuters
Just two months ago, President Obama almost launched a unilateral military attack on Syria to prevent another use of sarin gas on civilians. His goal was to uphold a "global norm" against such weapons. The threat was real enough to convince Syria to start dismantling its chemical stockpiles under international supervision.
Now the United States is working with other nations to hold talks Nov. 22 in Geneva aiming at ending the war in Syria. But what norm, or overarching vision, will Mr. Obama be seeking in these negotiations?
The answer is important for the talks to succeed. Whatever the US wants in Geneva, it will be up against two clear visions competing in Syria's civil war. Bashar al-Assad's regime represents the status quo of a ruthless dictatorship. Another vision comes from the increasingly powerful rebel groups associated with Al Qaeda that want to return the Middle East, not only Syria, to a 10th-century-style Islamic caliphate.
As for a third vision, most of the other rebels, many of whom originated from the Arab Spring protests for democracy, are now scattered in their aims or at least oppose each other for leadership of the opposition.
What's more, much of their support comes from two anti-democratic countries, Qatar and Saudi Arabia. Another major supporter, Turkey, is slowly slipping toward one-party rule.
Obama himself, after declaring support for democracy worldwide in 2009, has backed off that value-driven foreign policy. Last month at the United Nations, he spoke mainly of pursuing US interests, such as defending allies and protecting oil supplies.
---