Why Obama, UN can't fully trust Assad on chemical weapons in Syria
Bashar al-Assad's recent track record shows it is likely the regime will not live up to agreements on Syria's chemical weapons with the UN, Russia, and the US unless there are repercussions for stonewalling. For Obama, that means keeping the threat of military force alive.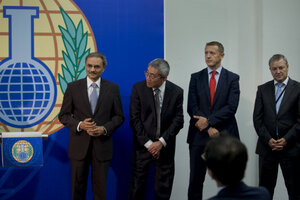 Peter Dejong/AP
This past Monday, Secretary of State John Kerry said that he was "pleased" that international experts had begun the destruction of Syria's chemical weapons. But at the same time, he stressed that Bashar al-Assad's early compliance needed to continue – a clear indication that while the process has gotten off to a good start, there is still a long way to go.
Mr. Kerry was right to call this a "good beginning," but the State Department was also smart to hold its praise for Mr. Assad. Recent history suggests that the Assad regime will not live up to any agreements with the United Nations unless there are repercussions for stonewalling or obstruction. Washington and the UN both need to take Assad's past track record into account by making it clear that there will be strong consequences if the Syrian government slows down its compliance. For the Obama administration, that means keeping the threat of military force alive, even if that is not its favorite option.
The task ahead for the Netherlands-based Organization for the Prohibition of Chemical Weapons – charged with destroying Syria's chemical weapons cache – would be difficult under peaceful circumstances. But the job will be even more difficult in the middle of a raging civil war, where UN and other experts must find, secure, and destroy all of these weapons by a looming June 2014 deadline. Secretary-General Ban Ki-moon acknowledged how unprecedented the task will be: UN inspectors have been the targets of gunfire in the past. Indeed, the dangers of carrying out the disarmament plan is not lost on anyone, even Secretary Kerry, who, with Russian Foreign Minister Sergey Lavrov, managed to cobble together this chemical weapons agreement.
The most frustrating aspect of the US-Russian initiative, however, is that the entire enterprise depends upon the full cooperation and transparency of the Assad regime – a government that has flouted every single agreement that it has signed with regional mediators throughout the two-and-a-half-year conflict.
---