Is Iran rational enough for MAD?
(Read article summary)
From the 1940s until 1990, the threat of 'mutual assured destruction' terrorized the superpowers into avoiding nuclear war. Would MAD work if Iran gets the Bomb?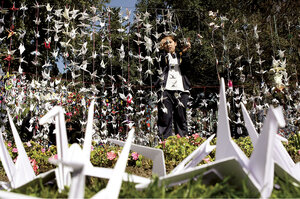 Eliseo Fernandez/Reuters
The acronym said it all: MAD. From the late 1940s until the late 1980s, the unthinkable idea of "mutual assured destruction" was the centerpiece of the cold war. You may recall how it worked: Automatic retaliation in a nuclear war would be so destructive that both sides would lose everything.
Nuclear weapons became a kind of "pagan god," a Monitor editorial observed on the 40th anniversary of the bomb blast at Hiroshima. And "to appease this insatiable nuclear deity, more and deadly nuclear weapons are made and deployed – as if it must be fed and placated to keep it from unleashing nuclear wrath upon the people."
Was MAD crazy? If everything the human race ever does is rational, then the threat of Armageddon was off the charts wacko. But MAD arose in a century that had already produced two world wars, unprecedented genocide, saturation bombing, and any number of other shameful chapters. MAD was not especially odd in that lineup. Perverse as it seems, the assurance of mutual destruction in the second half of that century may have been the reason that Aug. 9, 1945, was the last time a nuclear weapon was detonated in an international conflict.
MAD, in other words, may have been so crazy that it worked. Could it still? That question is at the heart of Scott Peterson's examination of the threat posed by a possible Iranian A-bomb.
---