To each his own niche
(Read article summary)
Mass-market campaigning is as passe as mass-market retailing. Politicians and pollsters increasingly slice and dice the electorate into demographic niches and tailor their messages to narrow groups of voters. Who are the 'soccer moms' of 2012?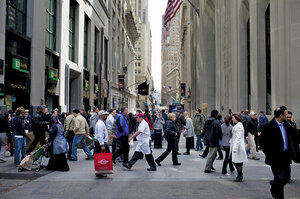 Victor J. Blue/Bloomberg/Getty Images
We live in a world that prizes e pluribus more than unum. Most of us bristle when told "if we make an exception for you, we'd have to make one for everybody." Judge us by where we live, what we drive, or how we dress, walk, talk, or look? We may not be flinty pioneers, but we are definitely not part of the vast, like-minded herd.
Marketing experts know we cherish our individualism. They have developed ever more sophisticated ways to track our interests and tailor messages to our wants and needs. When you think about it, though, what they are doing still amounts to lumping us in with a crowd. It's just that there are thousands of boutique crowds now rather than a mass market. You might be an extreme commuter, one of the working retired, an urban locavore, a young knitter who posts on Pinterest. And there might be a million of you.
Ten thousand niche markets have replaced the old mass market. These niches need not be large to pack a punch. A few thousand people can jam city hall plaza, spread the word about a hot restaurant, or spark an online rush toward a social media site only the cool kids now visit.
"The world may be getting flatter, in terms of globalization, but it is occupied by 6 billion little bumps who do not have to follow the herd to be heard," pollster and political strategist Mark Penn wrote in his 2007 book, "Microtrends: The Small Forces Behind Tomorrow's Big Changes."
---