After Newtown: a time for solace
(Read article summary)
Dec. 14, 2012, will long be remembered in Newtown, Conn., and well beyond. Tears will long be shed. Prayers and comfort will long be needed.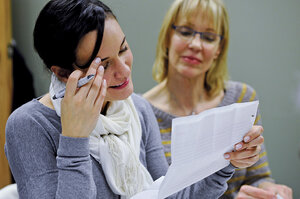 Jessica Hill/AP
Time is a blanket. It settles over the wars, disasters, and violence of today, softening the contours of the raw and immediate, turning them first into memory, then history, and eventually half-remembered legend. Time itself doesn't heal wounds. That takes a higher order of thought. But almost without effort, time gentles the present and helps us move on.
The world is overflowing with places and dates we vow never to forget: Auschwitz, Hiroshima, Gettysburg. At first, we lay wreaths and feel the rush of memory. Then time's blanket descends. We mark a month, a year, a decade, but new generations cannot feel the same way we do. Dates that will live in infamy once again become Sundays in early December. Hallowed ground in one era is a pleasant park in another.
Less than three months have passed since that terrible Friday morning at Sandy Hook Elementary School in Newtown, Conn. G. Jeffrey MacDonald has listened and watched as the pastor and parishioners of the Newtown United Methodist Church comfort one another and lean on a church family that was always there but has now become an even more essential part of their lives. (You can read Jeff's report here.)
The church sits at the entrance to the Sandy Hook village and has a large parking lot. Media from around the world swarmed in after the shooting. From the outset, the Rev. Mel Kawakami and members of the church kept reporters at bay, determined to maintain a community sanctuary. Still, there was a story to tell.
---