PJs or pinstripes? The tradeoffs of tele-work
(Read article summary)
Yahoo's Marissa Mayer and other CEOs have called a time-out on telecommuting. It's clear that just as some workers thrive on their own and some need to be in an office, some types work are better done in isolation and others in collaboration. It's also clear that telecommuting is only going to increase in the years to come.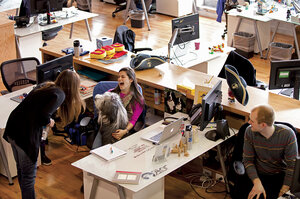 Melanie Stetson Freeman/Staff
Who would have thought that well into the second decade of the 21st century water-cooler seminars and hallway chitchat would be held up as the unique value proposition of an office? But thanks to Yahoo's Marissa Mayer and other managers who have newfound qualms about telecommuting, the serendipitous conversations and informal collaborations that take place in an office – sometimes also called slacking and breeze-shooting – are being touted as the secret sauce of business.
There is something to that. Silicon Valley in California; Kendall Square in Cambridge, Mass.; and other tech incubation districts are famous for their pizza parties, foosball tables, and networking mixers. Proximity is the point. But at the same time, technology and demographics are driving telecommuting. Which trend will win?
---