Is this the era of the 'quiet leader?'
(Read article summary)
Bold and loud makes the history books. Quiet usually doesn't. But you know what quiet leaders have accomplished by looking at the people they lead.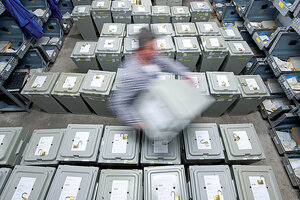 Jens Meyer/AP
Forceful leaders are often known by only one name – Caesar, Napoleon, Stalin. They often pick up suffixes like "the great," "the magnificent," or "the conqueror." They've got style. They're bold, charismatic. They exult in glory, crave applause, and specialize in grand gestures. These guys (they're usually guys) bestride the narrow world and change the course of history – though not always for the better.
In a Monitor cover story, Sara Miller Llana profiles a leader who is arguably the most powerful woman in the world. Germany's Angela Merkel, as you'll see, is cut from a different cloth. She is quiet, and she listens, works incrementally, and rarely makes a show of her leadership. A scientist by training, she grew up in the straitened society of East Germany.
The Germany she leads is the economic engine of Europe – which is making the Germany-dominated European Union, despite ongoing debt and austerity issues, a globally competitive organization of 500 million people.
Crucially, the woman who looks set to serve a third term as Germany's chancellor is cautious. Like most Germans, she has a fundamental understanding of the problems of overreaching and the poison of personality. Like most East Germans, she knows that nations are not forever.
---