Green building costs not always included in home appraisal
It isn't always easy to get green building costs appraised correctly when getting a home appraisal for a bank loan.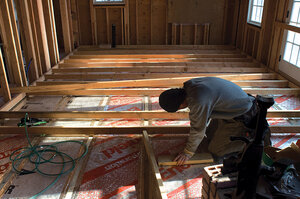 Joanne Ciccarello/Staff/The Christian Science Monitor
Building green is one of the few phenomena firing up the nation's slumped residential real estate market. In large part, that consumer demand is fueled by the fact that a green home can save as much as 30 to 60 percent over a conventional house to heat and cool.
But even as more hammers swing in green construction, potential purchasers of environmentally friendly homes are finding that it isn't always easy to get them appraised correctly and financed.
The problem is threefold: a lack of education among appraisers about the costs and benefits of green construction; insufficient data for them to calculate the value of environmental benefits; and finally, real estate listing services that, in many parts of the country, do not take into account attributes such as solar panels and spray foam insulation in their market valuations.
Solutions for these problems are still being developed.
Money-saving features don't appraise higher
"What we're finding is that the appraisal process, the lending process, the underwriting process for loans still hasn't caught up with the market interest in green building," says Kevin Morrow, senior program manager for the National Association of Home Builders' green programs. "If a builder builds a home that may cost a little more than an identical home next door, yet it has all kinds of efficiency features that will eventually mean that it's less costly to operate, it often won't appraise [for a higher value]."
In Chapel Hill, N.C., for example, Michael Chandler designed a home to be small, environmentally efficient, and solar. But in order for the appraisal to be high enough for prospective owners to qualify for a bank loan, the house had to be modified.
---