Six lessons from the BP oil spill
What the tragedy of the BP oil spill has taught us about regulations, technology, and how our energy diet must change.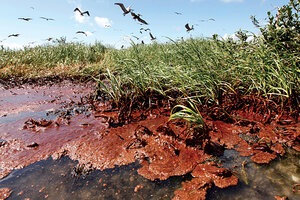 Gerald Herbert/AP
For years to come, the United States and the oil industry will be absorbing the lessons of the BP spill in the Gulf of Mexico. Regulators will toughen inspections. Oil companies will adopt more rigorous safeguards. New cleanup technologies will emerge from university and corporate laboratories. And spill drills could become a regular part of coastal communities' emergency planning.
What the BP oil spill does not signal, however, is a change in direction. Even as brown goo gushes from the Gulf floor 5,000 feet below the surface, and cleanup crews struggle to halt the slick from befouling beaches and shorebirds, companies are already developing the technologies to drill twice as deep off South America, Africa, and in the Gulf itself.
Oil plays too big a role in the world economy to turn off the spigot – or to stop exploring for new sources of crude to replace declining oil fields already in production.
IN PICTURES: Sticky mess: The Gulf oil spill's impact on nature
The larger lesson of the BP oil spill – the environmental and economic risks of over-reliance on fossil fuel – is lost on no one. The Obama administration and Congress may push through some measure that begins to tax the burning of oil and other fossil fuels.
---