BP oil spill: an unexpected laboratory for deep-sea disaster
The BP oil spill is a unique event, so scientists are converging on the Gulf to try to understand how best to combat deep-sea oil spills and what effects they have on the environment.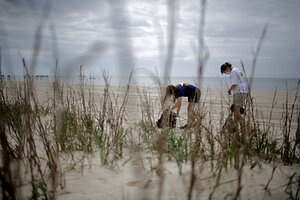 Edmund D. Fountain/St. Petersburg Times/PSG/Newscom
The Deepwater Horizon blowout, now into its fifth week, represents an unplanned environmental experiment on an enormous scale – one whose full impact on Gulf of Mexico ecosystems may not become clear for decades.
But scientists are scrambling to study the BP oil spill now, knowing that it is, in many ways, a unique event. Never before has a leak from such depths vented so much oil for so long. Scientists have many questions, from how the use of massive quantities of dispersants affects nature's ability to break down an oil to why oil plumes from deep-sea spills act in unexpected ways.
IN PICTURES: Louisiana oil spill
The information they gather could improve responses to future deep spills and provide a better sense of how they affect the ecology. Scientists, for example, know little about long-term effects that aren't severe enough to kill organisms, but can alter reproduction or behavior in fundamental ways, says Marshall Adams, a researcher with the environmental sciences division at the Oak Ridge National Laboratory in Oak Ridge, Tenn.
---