BP oil spill: harrowing escapes of Deepwater Horizon survivors
With hearings into the Deepwater Horizon accident ongoing in Louisiana and Washington, survivors' tales are coming out. They paint a picture of chaos and desperation after the explosion and offer hints about what might have caused the BP oil spill.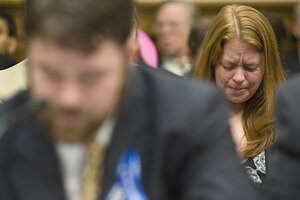 Cliff Owen/AP
The first explosion was a violent concussion that threw Douglas Brown against the control panel of the Deepwater Horizon's engine room and then down into a hole that had opened in the floor.
Mr. Brown, the engine room's acting second engineer, heard screams and shouts as he lay stunned in debris. He tried to stand up. A second explosion caved the ceiling in on his head. He heard more screams and began to panic. A fellow worker was crawling towards him through the wreckage yelling that he was hurt and needed to find a way out.
They made it out to a lifeboat deck through an engine room hatch that had been blown open. Outside was chaos. Survivors were crying they did not want to die. The drilling derrick was completely aflame, like a giant pine engulfed by a forest fire.
IN PICTURES: Louisiana oil spill
"The heat from the fire was incredibly hot on my body," wrote Brown in a statement submitted to the House Judiciary Committee.
The stories of survivors are beginning to fill in a vivid picture of the last moments of the Deepwater Horizon drilling rig.
These eyewitness accounts may not pinpoint the cause of the rig's disastrous demise. But as they come out, in hearings in Washington and Louisiana, they are providing some valuable hints about what might have happened.
---