'Whale' superskimmer drops out of Gulf oil spill response
The converted iron ore freighter 'A Whale' recovered only negligible amounts of oil from the Gulf oil spill. Smaller, nimbler skimmers are more appropriate for widely dispersed spills, the Coast Guard says.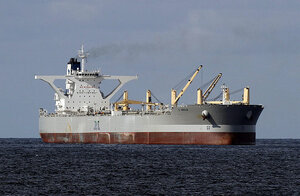 Patrick Semansky/AP
The Coast Guard said "thanks, but no thanks" to the superskimmer "A Whale" Friday, as the 1,100 foot-long converted iron ore freighter failed to make a sizeable dent in the Gulf oil spill during a 24-hour testing period.

Brought to the Gulf by Taiwanese shipping magnate Nobu Su to help sop up the vast blanket of oil covering parts of the Gulf, the massive A Whale held a tantalizing promise for Americans frustrated by the slow pace of the spill clean-up. Under ideal conditions, the ship's owners said, the A Whale could gather more oil in a day than all the other skimmers on the Gulf combined.

In reality, the A Whale gathered a "negligible" amount of oil over a 24-hour period while nearly 600 smaller skimmers sucked up 25,551 barrels of oily water and recovered 12,800 barrels near the source of the spill.
IN PICTURES: The Gulf oil spill's impact on nature

"While its stature is impressive, 'A Whale' is not ideally suited to the needs of this response," Coast Guard Admiral Paul Zukunft told the Wall Street Journal.
The A Whale's failed cruise reaffirmed the Coast Guard strategy of using a fleet of smaller vessels to corral the vast spill.
---