Activists frustrated at Obama's environmental record
Environmental activists were delighted to have Barack Obama replace George W. Bush as president. But greens are increasingly unhappy with Obama's record – especially on climate change.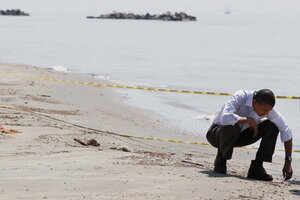 Larry Downing/Reuters
When Barack Obama took over the White House from George W. Bush, environmental activists breathed a collective sigh of relief.
Under Bush and vice president Dick Cheney, resource extraction – logging, mining, drilling for oil and gas – as often as not were favored over protection of habitat and endangered species. So was carbon-emitting energy production over conservation and "green" renewable energy.
No surprise there, since both Bush and Cheney had been oil men. It was more than symbolic that environmentalists got short shrift in the backroom meetings of Cheney's energy task force.
But things would be different with a progressive, young Democrat in the White House, enviros thought.
'A green, dream team'
Just as important to those looking for a change in direction were Obama's appointments to high environmental offices: Carol Browner, who'd headed the EPA under Bill Clinton, as White House climate and energy policy chief; Lisa Jackson, former head of the New Jersey Department of Environmental Protection, as EPA administrator; former director of the Colorado Department of Natural Resources and US Senator Ken Salazar as secretary of the Interior; and as secretary of Energy, Nobel Prize-winning physicist Steven Chu.
---