Home appliances get tough new efficiency standards
Industry and environmentalist groups agreed Tuesday on tougher efficiency standards for home appliances that, over the next 30 years, could save enough energy to power 40 percent of American homes for a year.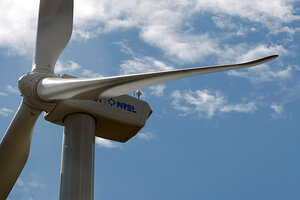 Rick Wilking/Reuters
While the US Senate energy bill appears all but dead, a coalition of environmentalist and industry groups forged ahead with an agreement Tuesday that promises to significantly reduce Americans' home energy consumption for decades to come.
The plan, if approved and implemented by the US Department of Energy, would hike the efficiency of the nation's biggest home energy hogs: refrigerators, freezers, clothes washers, clothes dryers, room air conditioners, dishwashers.
Over the next 30 years, the increase could save enough energy to power 40 percent of American homes for a year. It would also cut greenhouse gas emissions by about 550 million tons – about the same as taking 100 million cars off the road for a year.
IN PICTURES: Harnessing the sun's energy
The plan, which was agreed on by leading appliance manufactures, consumer groups, and environmental organizations, also sets tougher water efficiency standards for clothes washers and dishwashers. That change could save roughly 5 trillion gallons of water over the next three decades – the amount of that Los Angeles homeowners would use over 25 years, according to the Natural Resources Defense Council, the Association of Home Appliance Manufacturers (AHAM), and the Consumer Federation of America and other groups.
---