Green living: Wind turbines power a Bronx apartment complex
Wind turbines power green living at a Bronx subsidized apartment complex.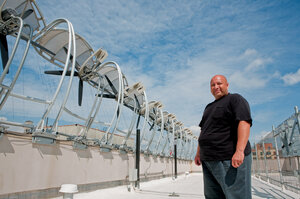 Taylor Weidman/The Christian Science Monitor
Like many New Yorkers who live cheek by jowl in rented concrete spaces many times removed from the energy sources that power the city, plumber Ivan Crespo says he used to "look the other way" when confronted with news about environmental issues and climate change. But since moving into the Eltona Apartments in the Bronx last fall, he feels he's finally taken a stake in the environment. That's largely because of the 10 eight-foot-tall wind turbines mounted on parapets atop the five-story building – an experiment in urban wind power that developers hope could become a national model.
"It's just amazing to see them work," says Mr. Crespo. "I never really thought about where energy comes from before, but now I pay close attention to things like that."
Crespo is so enthused about clean energy that he's changed his habits, too: He uses green cleaning products, recycles, and unplugs electronics and appliances when he's not using them.
The Eltona's developer and owner, Blue Sea Development, specializes in green buildings and wanted a site to experiment with wind power in urban housing, says company president Les Bluestone. If you want to put wind turbines on a building, the structure needs to be strong enough to support them, meaning the turbines should be incorporated into the initial building plan. Mr. Bluestone figured the Eltona, a precast concrete and masonry structure built from the ground up last year, would be the perfect experiment.
"My partner and I felt like someone's got to try it out, someone's got to be the first," Bluestone says. "Otherwise we'll all just sit here and talk about how wonderful the technology could be."
---