Florida panther comeback a success story with many asterisks
The population of Florida panthers has increased from 25 adults in 1995 to 100 today thanks to human intervention. But without continued intervention, the species will become extinct.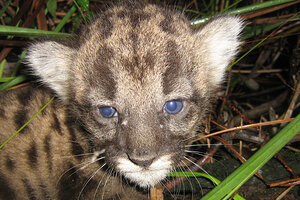 Science/AP
Endangered Florida panthers are inching back from the brink of extinction thanks to eight female cougars introduced from Texas 15 years ago.
The gain in numbers is modest. The population has grown from about 25 adults in the Sunshine State 15 years ago to roughly 100 today.
More telling biologically is the badly needed shot of genetic diversity the females introduced into a badly inbred population, researchers say. Many of the big cats are healthier, more readily able to resist disease, more reproductively successful, and are freer of serious physical deformities that signaled a group of animals undergoing genetic collapse.
That is the picture that emerges from a long-term panther monitoring program conducted by a team of scientists from federal and state agencies as well as from the Smithsonian Institution and the University of Florida.
"Given the changes we've seen in the population, the genetic results are cause for optimism," says David Onorato, a conservation biologist with the state's Fish and Wildlife Research Institute, based in St. Petersburg.
---