Polar bear 'doomed'? Only if greenhouse-gas emissions aren't cut.
Greenhouse-gas emissions worldwide must be cut to avoid a disappearance of summer sea ice in the Arctic, which is crucial to the polar bear.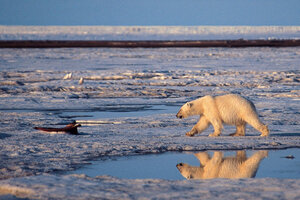 Subhankar Banerjee/AP/File
Polar bears – the white-furred poster children for global warming's impact on the Arctic – could step back from the brink of extinction over the course of this century if concerted efforts are made to reduce greenhouse-gas emissions and if rigorous wildlife management efforts are undertaken to keep bears and people safely apart.
That's the simple message behind a modeling study unveiled Wednesday by a team of federal and university scientists specializing in Arctic climate and polar-bear ecology.
In some respects, the conclusion isn't surprising, say some researchers who were not involved in the study. But, they add, buried in the study's details is a change in expectations for how the Arctic Ocean's sea ice is likely to behave as the climate warms. This change, if born out in the real world, could give Ursus maritimus more ice rafts to clamber over than might otherwise be the case.
"This is hopeful news for polar bears," says Walt Meier, a researcher with the National Snow and Ice Data Center at the University of Colorado at Boulder.
IN PICTURES: Climate change and animals
---