Time to lift ban on uranium mining near Grand Canyon? Deadline nears.
Obama administration must decide by midsummer whether to extend a freeze on uranium mining claims near the Grand Canyon. A recent report cites 10 national 'treasures' at risk.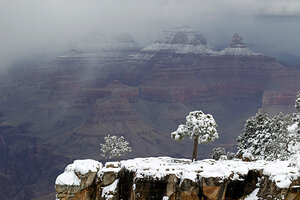 Rob Schumacher/The Arizona Republic/AP
In the past decade, interest in mining for uranium has surged, with prices for the metal soaring in world markets a few years ago. Uranium prospecting and mining-project plans have been popping up like jack rabbits across the western United States.
But for at least one of America's iconic natural landmarks, the Obama administration has put the brakes on thousands of new mining plans or claims. In 2009, it blocked claims for uranium and other mining on about 1 million acres of public land bordering the Grand Canyon.
Now, the administration is nearing a decision point: whether to allow the mining-claims process to move forward or extend its moratorium for up to 20 years. The decision could set a precedent for other natural landmarks also being hedged in by uranium and other mining claims, observers say.
More than 8,300 uranium and other mining claims, their development frozen by the government moratorium, are staked on the public lands near the Grand Canyon, according to a new study by the Pew Environment Group, an environmental watchdog based in Washington, D.C.
The report labels the Grand Canyon, as well as nine other national "treasures" in the West, as "at risk" from surging industrial mining claims on nearby public lands. More than 4,400 mining claims have been staked near those nine other sites.
In the middle of the storm is the Department of Interior's Bureau of Land Management (BLM), which controls much land around the 10 sites. Also getting involved is Congress, which is unhappy about growing foreign ownership of many uranium mining claims and a lack of revenue for the government from any resulting mines. The legislation regulating these activities needs updating, say some lawmakers.
---