Robots throw doubt on 'road map' to control Fukushima crisis
Robots found high radiation levels in reactor buildings 1 and 3 Monday, which could make it impossible for workers to enter the Fukushima plant to carry out crucial fixes.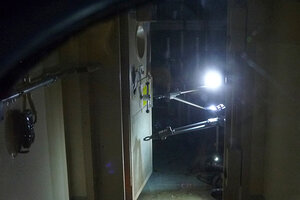 Tokyo Electric Power Co./AP
Robots prowling inside debris-strewn reactor buildings at the heavily damaged Fukushima Daiichi nuclear power plant detected levels of radiation that throw doubt on whether workers will be able to enter the plant for any extended period of time.
The announcement came Monday, just one day after officials unveiled a six-month "road map" for bringing radioactivity under control. Many experts call the road map a necessary step, but optimistic.
Exploring the first floor of the No.1 reactor building for about an hour, a robot provided by a Massachusetts-based company rolled through doors it opened with
its manipulator arms, detecting radiation leaking at a rate of 49 millisieverts per hour. That means a worker could stay in the building for no more than five hours before reaching the lawful annual limit for nuclear workers of 250 millisierverts.
Later, in a two-hour prowl through the No. 3 reactor, one of the robots ran into debris roadblocks and recorded readings of 57 millisieverts per hour, Japanese broadcaster NHK World reported.
While the readings were not completely unexpected, they confirm the difficulty of the task ahead if the plant's operator is going to bring the damaged reactors, their spent fuel pools, and radioactive releases under control within six months.
Two-pronged plan
The first part of that plan is to bring down radiation levels at the site, in part by restoring steady cooling for the reactors and setting up storage facilities for radioactive water. The second step would be to achieve a "cold shutdown" at the reactor site and vastly lower the amount of contaminated water on site by the six-to-nine-month mark.
At that point, Japan's industry minister Banri Kaieda said Sunday, the government might be able to tell evacuees when they can return home, NHK World reported.
---