Monster wildfire in Arizona: A glimpse of what climate change could bring
Even as the Wallow fire threatens to alter the Arizona landscape for a long time to come, some scientists say climate change may be fueling a trend toward larger wildfires in the American West.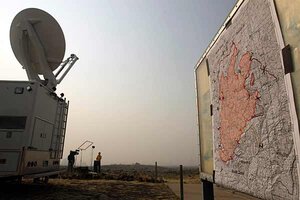 Marcio Jose Sanche/AP
A wildfire in Arizona that has blackened an area half the size of Rhode Island, prompted the evacuation of some 2,000 people in its path, and is threatening long-distance power lines that serve New Mexico and Texas, is the latest poster child for what some scientists see as a long-term trend toward larger, longer-lived wildfires in the American West.
And as researchers explore the causes, climate change appears to be an important contributor.
Nor is Arizona, which is battling three major blazes, alone in watching significant acreage go up in smoke this year.
In Texas, whose fire season officially starts each Nov. 15, wildfires have already consumed a record 2.8 million acres this season, according to the state's Forest Service. That eclipses by far the record set during the 2006 fire season, when wildfires burned nearly 2 million acres.
In Florida, firefighters are working to douse 35 wildfires larger than 100 acres, the largest of which has burned just over 160,000 acres near the Florida-Georgia border.
Fire statistics gathered at the National Interagency Fire Center (NIFC) in Boise, Idaho, give a rough glimpse of the trend toward more scorched earth in the US.
From 1960, when the center's tally begins, through 2010, wildfires throughout the US burned an average of 4.2 million acres a year. Between 2000 and 2010, however, the average rose to 6.6 million acres a year. Six of the last 11 years saw from 7 million to nearly 10 million acres burned. Between 1960 and 2000, only two years reached the 6-million-acre mark.
---